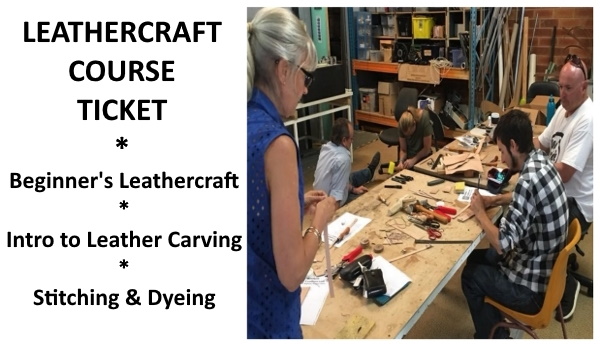 Save over 10% by purchasing this discount ticket which entitles you to a course of all three classes that we regularly hold each month:

1) Basic Leathercrafting
2) Introduction to Leather Carving
3) Stitching & Dyeing

NOTE 1: A list of all of our future classes can be found at our listings on the ClassBento website.
NOTE 2: As class numbers are strictly limited, in addition to having this ticket, bookings for each class must be made separately a week in advance via email so that we can manage numbers to comply with COVID safety precautions and space limitations. You may not turn up without having first made a booking.

*** Osborne Park Leathercrafting Course Ticket ***
Product Code: 3IN1TICK
Availability: In Stock
Tags: Leathercraft Class, DIY, Stitching, Dyeing, Embossing, Carving, Course, Discount